Discover the Jakobínka tower
from the ground to the top
The Jakobínka Tower is the only remnant of the now lost upper part of the castle. It stands at the highest point of the castle at an altitude of more than 615 metres above sea level.
Most experts consider Jakobínka a Bergfrit, more precisely a round watch tower, which was not built as residential, but in case of need it could serve the defenders as their last refuge. This is hinted at by its striking height, in contrast to the rather subtle mass of masonry. Jakobínka has a circular floor plan, is 38 metres high, has almost 10 metres in diameter and a total of 5 floors. The gallery is at a height of 28 metres. The height of the roof reaches another 10 metres. At the ground level, the width of the masonry reaches almost 4 metres, and going upwards it narrows, this is related to the way of construction. The construction took place for several construction seasons. The different composition of the masonry, which is seen on the outer shell, is caused by the fact that for the construction they used quarry stone from several locations. The original entrance, which was used to access the tower, is located above the current entrance at a height of approximately 14 metres above the ground. In the past, the tower was accessible only by this entry, either with the help of wooden catwalks joined with some today non-existent object, or directly from the ground using a large wooden staircase. Today is used a secondary entrance from the year 1858, which is directly related to the historic modifications in the premises of the so-called Upper Castle done after the middle of 19th century by the owners of the house of Bucquoy.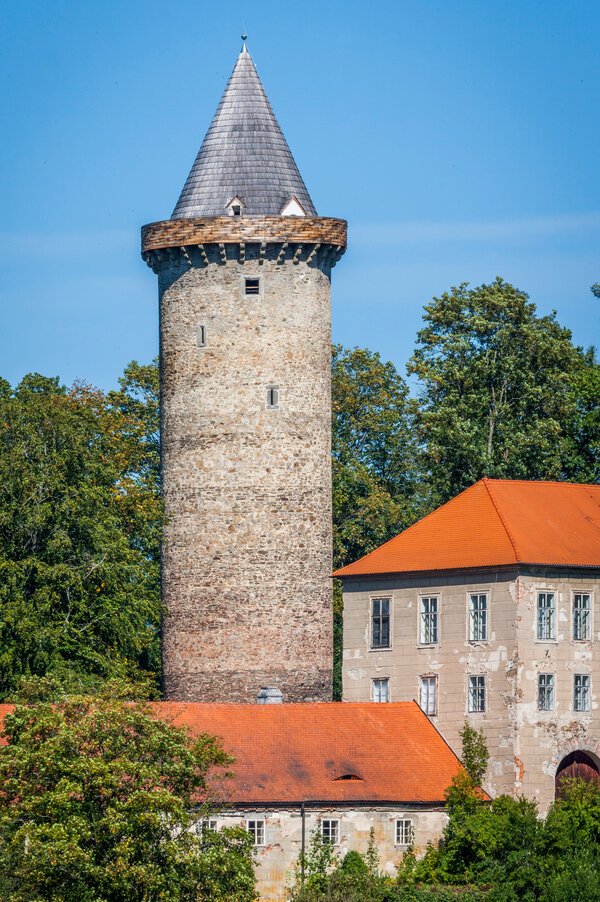 Quick contact
Are you lost? Don't worry, give us a call and we will help you.